Lenovo System x3100 M5
Lenovo System x3100 M5 Standard SET
Intel Xeon 4-Core E3-1231v3 3.4GHz/ 1600MHz FSB, 8MB L3 Cache
4GB (1 x 4GB, 2Rx8,1.35V) UDIMM PC3-12800 CL11 ECC DDR3 1600MHz
Software RAID 0, 1, 10 with ServeRAID C100 controller
(Simple-Swap SATA 3.5" Models)
DVD-ROM
1 x 300W Power Supply / not hot-swap / no redundancy
ITEM DESCRIPTION
Processor :
Intel Xeon 4-Core E3-1231v3 3.4GHz/ 1600MHz FSB, 8MB L3 Cache

Memory :
Standard = 4GB (1x4GB, 2Rx8, 1.5V) UDIMM PC3-12800 CL11 ECC DDR3 1600MHz
Maximum = 32 GB
Maximum Slots = 4 DDR3 DIMM slots (UDIMM)

Hard Disk Controller :
4 SATA Simple-Swap (3.5") bays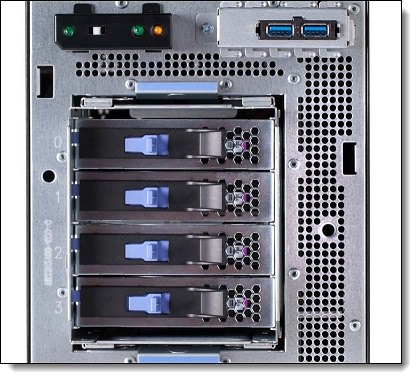 RAID Controller
Software RAID 0, 1, 10 with ServeRAID C100 controller

Optical drive :
DVD-ROM, No Floppy Disk

Video :
Matrox G200eR2 with 16 MB memory integrated into the IMM2. Maximum resolution is 1600x1200 at 75 Hz with 16 M colors.

Keyboard / Mouse
USB Keyboard/ Mouse

Ports
Front Ports : Two USB (3.0) ports
Rear Ports : Four USB 2.0, one DB-15 video, one DB-9 serial, two RJ-45 Gigabit Ethernet network ports (one dedicated and one shared with the IMM).
Internal Ports : One USB 2.0 port for internal USB tape drive.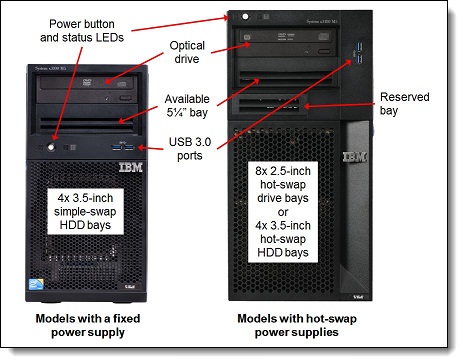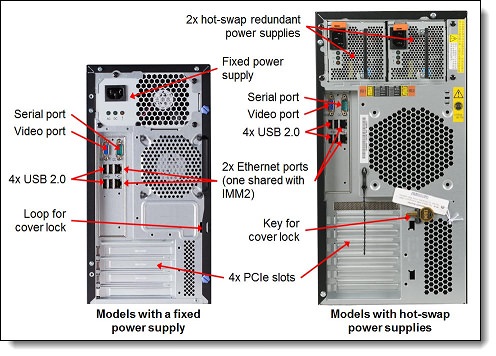 PCI Slots :
- Slot 1, PCIe 3.0 x16 (x8 wired), full-height, half-length
- Slot 2, PCIe 3.0 x8 (x8 wired), full-height, half-length
- Slot 3, PCIe 2.0 x8 (x4 wired), full-height, half-length
- Slot 4, PCIe 2.0 x4 (x1 wired), full-height, half-length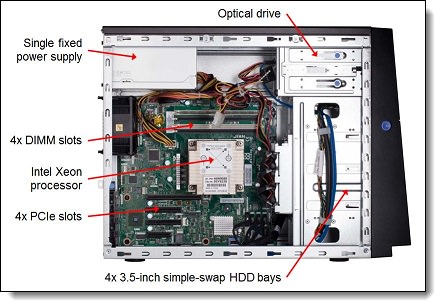 Cooling Fans
Up to two speed-controlled non-redundant fan. A second fan is required if two or more adapter are installed (Thermal Solution Fan kit, 46W9177, optional).
Optional Operating Temperature Enhancement Kit, 00Y8197, to enable the server to operate in a 40°C environment.

Power Supply Units :
1 x 300W Power Supply / not hot-swap / no redundancy

System Management :
UEFI, IBM Integrated Management Module II (IMM2), basic light path diagnostics,
Automatic Server Restart, IBM Systems Director, and IBM ServerGuide.
Optional IMM Advanced FoD Upgrade for remote presence (graphics, keyboard and mouse, virtual media).

Operating Systems supported :
Microsoft Windows Server 2008 R2, 2008, 2012, 2012 R2; Red Hat Enterprise
Linux 5, 6, 7; SUSE Linux Enterprise Server 11; VMware ESX 5.1, 5.5; 4690 OS
(no USB 3.0 support for RHEL 5.1 or VMware ESX 5.1, 5.5)

Warranty :
3 Years On-Site Warranty, 4Hrs response, 24x7 by IBM (Thailand)

Dimensions :
Height: 360 mm (14.2 in), width: 180 mm (7.1 in), depth: 480 mm (18.9 in).

Weight :
Minimum configuration: 10 kg (22.0 lb), maximum configuration: 13 kg (28.7 lb).